Editor's note: This article was originally published as Full Surface Acid-Etched Starphire® Glass: The Designer's Choice on the Walker Glass Blog
Focus is on comfort these days. You can see it in the pages of architectural and décor magazines: natural materials like wood and wool, warm colors, and diffused light. Stainless steel finishes seem to be losing popularity, and no wonder. It's well known that in stressful times people gravitate toward more comfortable environments that foster a sense of well-being. With the economic and political insecurity of the last few years, plus that small detail of a global pandemic, designing for comfort is trendier than ever. Low-iron acid-etched glass is an ideal fit for this humane aesthetic.
What's so special about low-iron glass? It's an ultra-clear substrate without the greenish tint inherent to regular "clear" glass, so it delivers a cleaner, purer light. The clarity of the glass becomes even more apparent when you add a full surface acid-etched finish. It's the perfect blank canvas for designers and architects. It's also one of the most impactful ways to improve daylighting, by increasing visible light transmittance (VLT) and reducing glare.
Showing true colors
Lighting can make or break a space. As home décor shifts toward warmer palettes, glass must keep up. The aqua tint of "clear" glass can dilute the cozy look of earth tones and warm colors, making the overall effect appear muddy and dull. On the other hand, low-iron glass fits seamlessly into its environment and does not affect the overall palette.
Acid-etched finishes on low-iron glass open up even more possibilities. The etch adds some opacity to the glass and reduces surface reflections that could interfere with the appearance of back painting or colored laminates. A dash of just the right color can enliven mirrors, counters, cabinets, accent windows, tabletops, and other focal points, and a neutral base like low-iron acid-etched glass lets these colored accents stand out.
Whether colored or not, acid-etched low-iron glass is also an ideal option for classic opaque applications like shower partitions because it provides a neutral look that won't interfere with the room's color palette.
Giving buildings their best light
Public spaces benefit from great daylighting, just as much as private ones. After all, light is a major part of how people feel in a space. That's why it's so important to use high-quality glazing in public and commercial buildings, especially when they're meant to make a good impression. Often, architects will insist on Starphire® glass for gathering areas like lobbies and atriums, even if the rest of the building uses standard clear glass. It's also popular in luxury settings like pools, spas, museums, and cultural hubs – in short, anywhere that ambiance makes a difference.
Low-iron glass is particularly useful in skylights, which use thicker lites that would exacerbate the green tint of standard clear glass. Skylights also benefit from an etched surface, which cuts the glare from the daylight streaming in yet still allows the skylight to fully illuminate the space below. A low-iron product with an acid-etched finish is the perfect choice for a skylight. This kind of installation will bathe the space in pure, glare-free light.
Acid-etched low-iron glass is also popular in schools, hospitals, and other public institutions due to its light-optimizing capabilities. The etched surface eliminates glare while maintaining high visible light transmittance (VLT) levels, which helps structures to meet daylighting requirements for health and educational institutions, and contributes to occupants' well-being. Additionally, acid-etched glass can help with privacy and security in these facilities because it can selectively block sightlines into the buildings.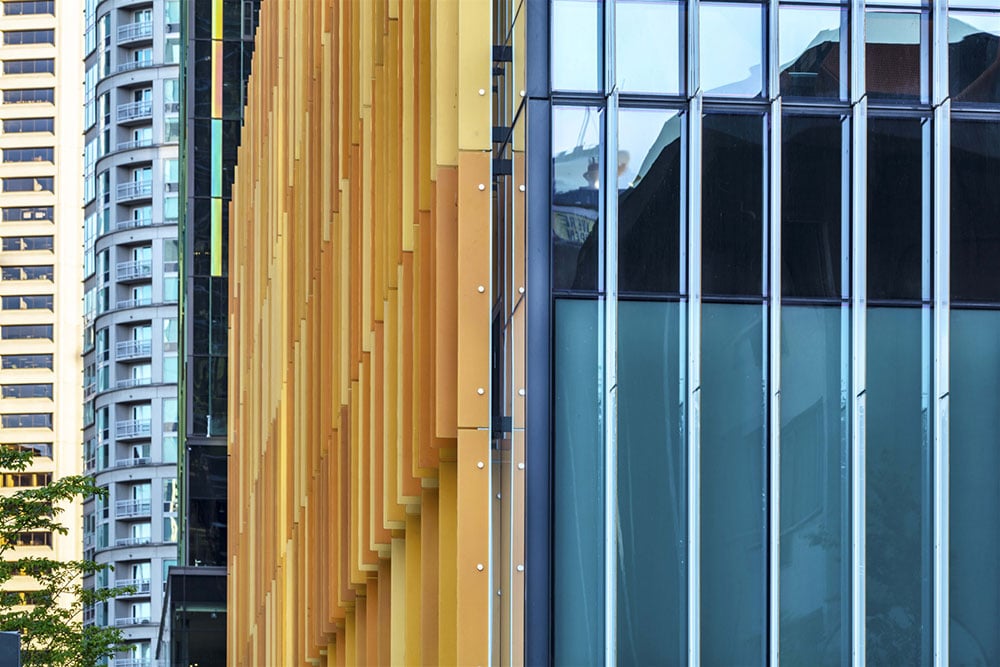 Amazon's Day 1 Tower
Expressive design with glass isn't just for interiors. Architects NBBJ selected Starphire® glass with a Walker Textures® Velour finish for the striking orange fins of Amazon's Day 1 high-rise. The colorful accents support the project's overall concept, which seeks to build a sense of neighborhood identity through aesthetic elements and multi-use spaces. The local community asked for color, and NBBJ delivered. The sunny orange fins on the Day 1 high rise take advantage of the blank canvas provided by low-iron glass with an acid-etch finish. This neutral substrate with its matte surface shows off the ceramic laminate's true, warm hue. You can read more about this project in this blog article from Walker Glass, or on NBBJ's website. Discover the site's signature biodomes our case study on the project.
The value of acid-etched low-iron glass
Architects and designers use acid-etched low-iron glass in a multitude of ways. However, with all their variety, these contexts speak to a few essential values.
Well-being. Enhance human comfort by delivering the purest daylight possible, without any glare or greenish tinge.
Design. Protect your creative vision by displaying the true hue of back painting, laminates, and interior surfaces.
Security. An acid-etched finish on low-iron glass offers privacy in sensitive settings, without sacrificing VLT.
Quality. Starphire Ultra-Clear® low-iron glass is the clearest, purest glass on the market.
Visible Light Transmittance of low-iron acid-etched glass, compared to unetched clear glass
To learn more about the performance metrics of low-iron and acid-etched glass, please see our Performance Data Tables or consult Walker's Technical Booklets.
Substrate
Finish
Visible Light
Transmittance
6mm Clear
None
89%
6mm Starphire Ultra-Clear® Glass
None
91%
6mm Starphire Ultra-Clear® Glass
Walker Textures® Satinlite
90%
6mm Starphire Ultra-Clear® Glass
Walker Textures® Satin
90%
6mm Starphire Ultra-Clear® Glass
Walker Textures® Velour
92%
6mm Starphire Ultra-Clear® Glass
Walker Textures® Opaque
93%
Low-iron acid-etched glass is an added-value product, best suited to projects that prioritize design and human well-being. However, since there is no ASTM specification for low-iron glass, clarity levels can vary widely based on how they are manufactured and the levels of iron found in their formulae. For this reason, some low-iron glasses may be more appropriate for your project than others. When you specify acid-etched Starphire® glass you commit to quality, clarity of design, and the purest light possible.
Tips from the experts
For the purest effect, use low-iron glass for all lites in an insulating glass unit.
If you're working with laminates, choose an ultra-clear product, since regular laminates often come with a yellowish tint.
Acid-etched finishes are a great choice for back-painted and laminated glass. The etched surface reduces reflections and lets color stand out.
Exterior applications are also good candidates for an acid-etched finish. This type of finish is easy to clean and withstands wear better than untreated glass, so you can enjoy the full effect of your low-iron glazing.
About Walker Glass
Walker Glass is North America's market leader in the manufacture of acid-etched products, known for Walker Textures and AviProtek® bird-friendly glazing products, as well as premium-quality mirror. Walker Glass proudly serves US and Canadian architectural glass fabricators from coast to coast, supported by the largest inventory of etched glass, acid-etched mirror, and mirror on the continent.
Learn more at walkerglass.com